Reverse Polarity Electrolyzers
Chlor Generators offers the complete range of Reverse Polarity Parallel Plate ELECTROLYZERS for seawater electrochlorination, whether New or Replacement.
Technical details
These are also known as Reverse Polarity Plate Electrolyzers or RP-PPE Electrolyzers.

Input medium: Seawater.

Ideal application: Small capacity electrochlorination systems for offshore platforms or unmanned stations.


Available in single modules of: 0.1 ~ 6 kg Cl2/h.

NB: Any in-between capacity also available.

Modules can be combined into any capacity, for example, ~ 24 kg Cl2/h assemblies.

Optional: Available as loose electrolysers or complete frame/stand mounted assemblies.


Max hypo concentration is 500~1,000 mg/l Cl2.

De-scaling maintenance: Auto self-cleaning, therefore acid washing to remove calcium and magnesium deposits not required.

Electrode type and materials: Bi-polar electrodes constructed from MMO coated titanium both cathodes and anodes. (NB: MMO = mixed metal oxides of the halogen group).

All other construction materials: uPVC or optional cPVC, optional GRP/FRP coating, EPDM rubber gaskets, optional VITON gaskets.

Operational life warranty: 2 years continuous use (although it may operate beyond 3 years).

Optional: Designed for either arctic or average/tropical temperature seawater.

Optional: Designed for either Safe Area or ATEX Hazardous Area Zones 1 or 2.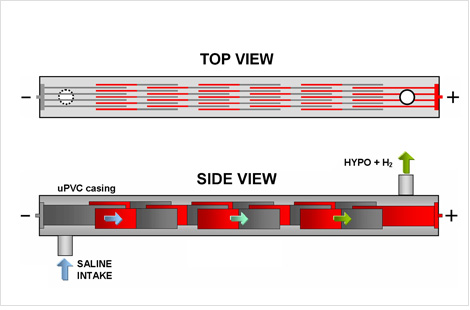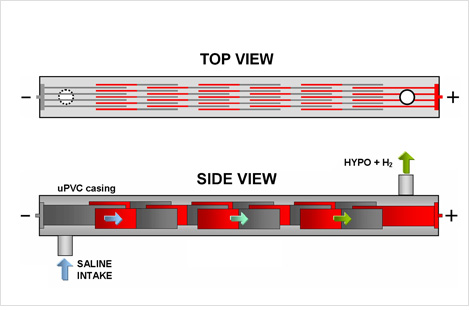 Parallel Plate Electrolyser cross section

Copyright Chlor Generators Ltd. 2021 / All Rights Reserved